My Books

View More about my Current & Upcoming Books below: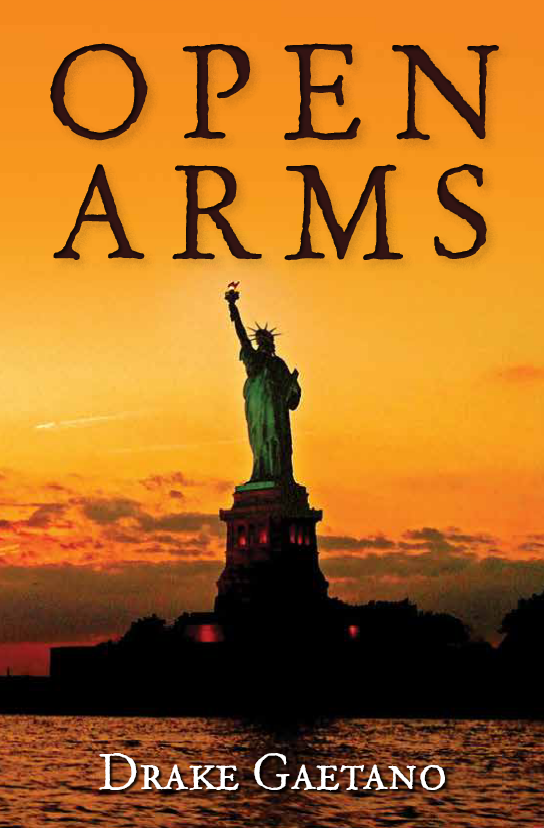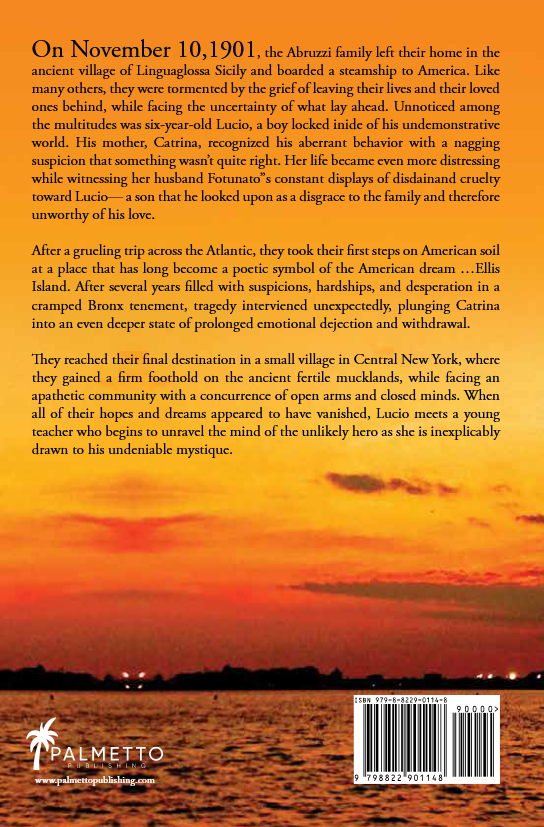 Open Arms
On November 10, 1901, the Abruzzi family left their home in the ancient village of Linguaglossa Sicily, and boarded a steamship to America. Like many others, they were tormented by the grief of leaving their lives and their loved ones behind, while facing the uncertainty of what lay ahead. Unnoticed among the multitudes was six-year-old Lucio, a boy locked inside of his undemonstrative world. His mother, Catrina, recognized his aberrant behavior with a nagging suspicion that something wasn't quite right. Her life became even more distressing while witnessing her husband Fortunato's constant displays of disdain and cruelty toward Lucio— a son that he looked upon as a disgrace to the family and therefore unworthy of his love….
Reader Reviews of Open Arms:
Just finished reading Open Arms by Drake Gaetano. Another intriguing, educational, love-inspired read by a great author. Captivating from the very beginning. Your emotions soar in all directions. The message and understanding we all need stay with you and in your heart. Thank you for opening our eyes in Open Arms.
-Rena
Open Arms will keep you reading. The book has several themes which will resonate with different readers. We read with a strong narrative about an immigrant family leaving behind their lives and loved ones to come to America in 1901 and their resettlement in a country that is not always welcoming. The story also portrays with painful reality the cruelty of a father toward his young son locked in his own world, while his wife stands helplessly by. And finally, we see the growing relationship between a stern teacher who softens and comes to love that mysterious boy. Open Arms gives us much to think about. 
-Dianne
I love to read about people who pack up their lives and leave their loved ones and homeland behind to seek better opportunities in a new county. Open Arms tells that story. It was interesting to follow the Abruzzi's next transition from big city tenement living to a rural life. But the real story for me is about Lucio, the young son who dwells within himself and doesn't communicate like others. Viewing him through today's lens we see an autistic child. But imagine how much more disconcerting his behaviors must have been a century ago. This heartfelt tale tracks how very differently the father, mother and teacher relate to Lucio. It keeps you thinking long after you finish
– Audrey
Open Arms was a very enjoyable tale of Italian immigrants coming to America in 1901 that needed to be told. Drake did just that! It was easy to understand and captured all of the difficulties facing the Abruzzi family from the ancient village of Linguaglossa Sicily. The story brought back memories of my relatives who immigrated from Austria around the same time with hopes of a better life in America. It also addresses the challenges of having a special needs child, lovingly named Lucio.
His mother and father had to learn to cope with his disability at a time when children such as Lucio were considered a disgrace to the family, in particular his father Fortunato. His Mother Catrina chose instead, to love him and protect him from his father and anyone who might bring him harm. The characters are very believable and you can actually feel their frustrations until things began to look up when they encounter a young endearing one-room schoolhouse teacher by the name of Katlin who changes everything. It becomes a relationship between her and Lucio that will warm your heart forever. Drake's work made me aware of the challenges the Abruzzi family faced together such a long time ago. Along with a strong and endearing cast of characters, it's an easy read.
– Carol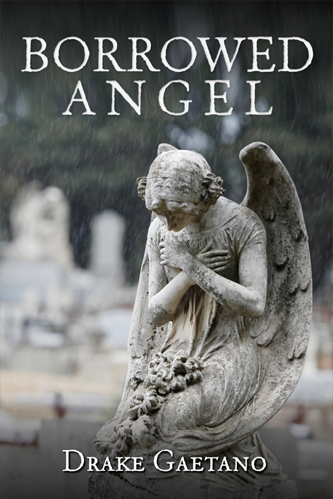 Borrowed Angel
Losing a loved one inevitably results in perpetual, incalculable, grief, and there is no loss greater for a mother than to lose a child — no less an only son. This compelling story concerns a mother who never allows fear and hopelessness to cast a shadow of doubt over her belief in miracles, the power and sanctity of God, and an inevitability of life that is inviolate. When discovering her son Jason was diagnosed with a rare form of lung cancer, Elaine prepared herself for the remaining precious time they would have together. But those years were filled with anxiety and trepidation while she watched his life slowly begin to ebb away. After her three-month stay in the hospital, she discovered what she had known all along; that life is precious and can't be redeemed by assumptions, empty words, or promises, and if angels really do exist, they went unnoticed in room 420.
Based on true life events, Borrowed Angel, will open your heart to the pain, suffering, and healing of a mother who lost the one thing in life that she loved most. It may help the reader to see that angels really do exist, that they can mend a broken heart, and despite what others may believe, are servants of a higher being.
Borrowed Angel is available now on Amazon and Barnes & Noble. 
Layers
You've probably never given any thought to what life might be like for a man living and working in a woman's world. However, if you were to ask G. Edwin Crandall, you might be enlightened by what he has to say. He is what a man should be: idealistic, sensible, good humored, dashing, witty, sensual, genuine, and determined. He's not your ordinary man about town. Among other things, he's an extraordinary hairstylist with an intriguing story to tell – and he's not just talking shop. Even though most women find him easy to confide in, he has promises and secrets he must keep, layered with a few of his own deep dark secrets scattered here and there. Through a succession of life's lessons, Edwin embraces his nurturing side early, discovering there's more to life than just another pretty face. Enter his world and join him for le voyage de votre vie, where the story will unfold to uncover his rise to fame, close encounters, trouble in paradise, and his ultimate realization that women with great style don't merely dazzle – they inspire and can rock your world.
"Layers" is available now on Amazon and Barnes & Noble. 
Reader Reviews of Layers:
This book had me on a Rollercoaster ride of emotions. It was from a time and place that was very familiar to me. It brought back a lot of memories that I thought were forgotten..The character, Edwin takes you through his life with memories that are happy and at many times full of anguish. There are also secrets in his past that he must come to terms with. We are lead through his world of Hairdressing and what he does to become the best. The reader also gets a glimpse of Edwin's soul, he is a sexual being that is looking for love and want to be loved. Thus book is sexy, entertaining,thought provoking,and at times heart wrenching. In the end Edwin realizes that his love and belief in God is all he needs to put him on the path to everything he is longing for in his life. Edwin also shows us that we need not worry about the way society reacts if you outwardly show love for a man or a woman in a non sexual way. In other words love and respect all people and your life will be fullfiled The words flow in this book and the Author's language is eloquent, I highly recommend this book to everyone, in the end it is uplifting and I believe it will make you look at your own life and strive to become a better person.
Bravo Mr. Gaetano
-Richard
Layers is a MASTERPIECE!! Who hasn't sat in a hairstylists chair and taken in "aura"? Edwin Crandall takes us behind the scenes, giving us a once in a lifetime opportunity to get a taste of the talented artists who create a new you. He freely shares his journey into the world of glamour in yes, "Layers". His life is filled with the good, the bad, and the ugly as he shares his climb to the mountain top. The depth of his feelings, his emotions, his struggles, his determination are felt in every word with a powerful delivery. I was mesmerized by Edwin. He was a male with real emotions and feelings who didn't hesitate to tell all. You will fall in love with him! This is a heartfelt journey of love, kindness, forgiveness, and great, great success. Drake's style is free-flowing and an "easy" read which does so much more. I am ready for a second book! I literally could not put the book down! As I reached the final chapter, I DID NOT WANT IT TO END. Drake, I hope you are working on a sequel! Thank you for inviting us into G. Edwin Crandall's life.
-Lanie
Not since Warren Beatty's portayel of a Beverly Hills hairdresser has pop culture seen a complex and contradictory character as G. Edwin Crandall in this magnificent debut novel by Drake Gaetano.
Against the backdrop of the heady hippy era, the reader is thrust into the glamour ,as well as the squalor of the golden era of hairdressing, when male hairdressers were part matinee idol and part therapist, with a hint of gigolo thrown in as well.
What makes Layer's hero Edwin such an intriguing character is his strong sense of morality,
as it contrasts with the decadence and temptations he is often surrounded by.
You can sense he is both fascinated and repulsed by the insanity he often finds himself in, often at the skilled hands of Bill, his salon's top stylist and unlikely best buddy. Edwin observes, sometimes participates, but never judges the shenanigans.
I won't spoil for you my favorite scene, when Bill tricks Edwin into attending an underground club that Bill assures him is " crawling with available woman", but suffice it to say ,a good time is had by all!
This is a must read!
I want more !
Sequel, Mr. Drake?
– Dan
What readers of Drake's work have previously said:
"The words flow in this book and the Author's language is eloquent, I highly recommend this book to everyone, in the end it is uplifting and I believe it will make you look at your own life and strive to become a better person." -Richard.
"I am ready for a second book! I literally could not put the book down! As I reached the final chapter, I DID NOT WANT IT TO END." -Lanie
"The novel was engaging and well-paced and I was sorry to see it end. Job well done Mr Gaetano and thanks for the lovely descriptions of Randazzo Italy." – G. G.