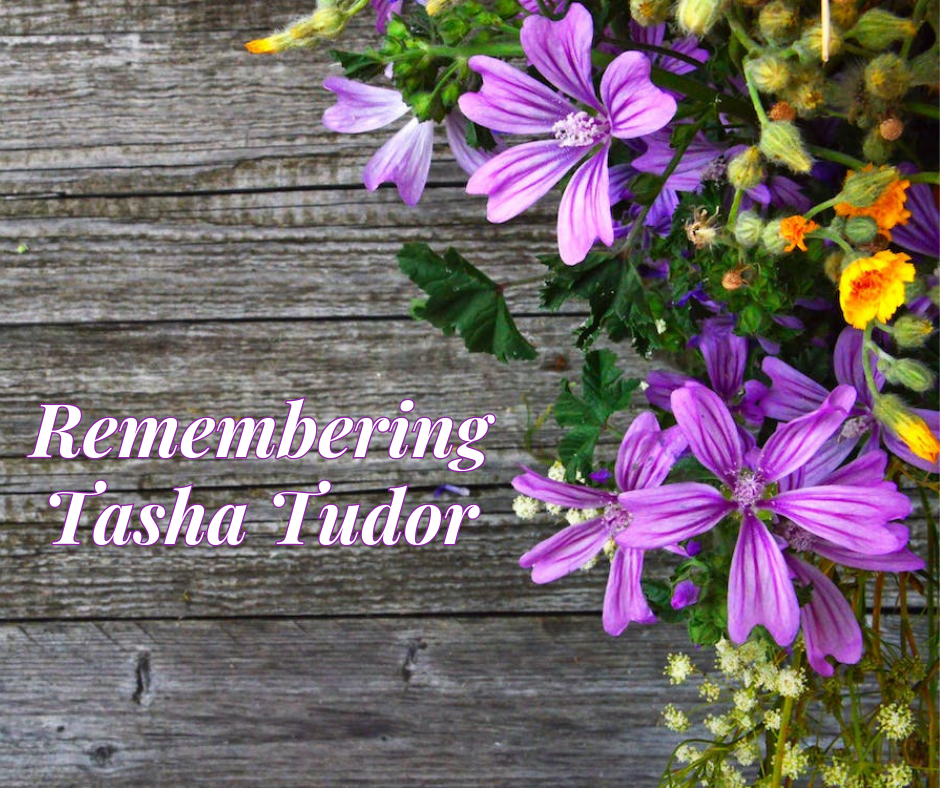 Remembering Tasha Todor
A life worth living, a life worth revisiting.
There comes a time when we have a choice to live a lifestyle that best suits our needs. More than likely it would be one of calm over chaos, simplicity over clutter, and love over abomination. We just don't seem to know where to begin. However, one iconic woman chose to live that life of inner serenity while filling her sometimes chaotic life with simple but tangible earthly treasures; things that really mattered to her.
Her name was Tasha Tudor, a woman whose choice was to live an eighteenth-century lifestyle at a time of hasty and unresolved change in America. She didn't realize it at the time, but one day she herself would become an American treasure.
She chose to live out the best years of her life with a visceral connection to the past. A choice that brought her years of gloriously fulfilling and peaceful days. A life that was imitated by the art that she left behind for all of us to admire, and if we choose to, we still can live life her way. A simple life inspired by bygone days where we can stop to smell the roses and pause to enjoy the sound and the smell of the rain in Autumn.
She wrote and illustrated books about the enchantment, meaning, and mystique that children bring into our lives. Her life was filled with plentiful joy and happiness while living among her pets, acres of gardens overflowing with unparalleled beauty while creating a romantic portrait of a simple life by which even in today's world of chaos and uncertainty, can belong to you. She left a magnificent canvas and blueprint from which we can create our own eighteenth-century utopia if we choose.
Tasha lived in her own chosen space of patience, persistence, hard work, and fulfilling determination. She was a frail woman, yet sturdy in her toughness. It was not so much of her art that she felt, but as the woman herself. I invite you to view her simple but illustrious life through the lenses of those who have chosen to capture her life for all of us to share. Somewhere beyond the rainbow, there is a portal that will allow each of us to step into, and follow the path that will lead us to discover that calm and peace that we desperately seek. That which we are obligated to pass on to our children.
At best I have only given you a mere glimpse into a woman whose storied life will add years of enrichment and purpose to yours. Seek more about her and you will find much more, and you will be glad you did. She left behind a legacy to behold. A life that we can follow filled with a template of beauty, wonder, and endless days of Mays.
When asked the question; what was her profession she always put down "housewife". "It's an admirable profession, why apologize for it?" You're not stupid because you're a housewife. While you're stirring the jam, you can be reading Shakespeare".
I must admit I am envious of the people who she allowed into her life. I wish that I was one of them, if only for a day. To live on her land and celebrate life's special events with her, as well as the passing of the seasons; to be my host for memorable teas and dances in the gardens. To peruse our thoughts and musings that would inspire the world. She taught me the joy of watching a garden grow and enjoying a moment of time with a bouquet of flowers. To live in your own garden knowing that life begins when the pain you feel belongs to someone else.
If you have a roof over your head, strong determination, a creative soul, or even a small front, side, or backyard, you can create your own Tasha Tudor world filled with your own seeds of fulfillment.
The choice is entirely yours.
I have spent time looking wildly and at times refreshingly into her life, and because of that she has made me a better writer and a better man, and for that, I shall be eternally grateful.
—
To Tasha;
My Gift To You;
You're tenderness and your grace
If only to dream about you and I walking along stone vaulted passageways leading us into the cloister garth
Your intoxicating gardens of pure wonder awake my sense of romance and I dance in the presence of life
Cloth dolls, wooden puppets, butterflies, and many other critters come alive in my head whilst they dance in a field of poetic euphoria
Dogs named "Snap", "Dorkus" and "Porkus" sit alongside me, and I begin to laugh unafraid, with the child in me that guards my damaged youth
I watch you from the tallest of your trees, while you are anointed with your longing to wander aimlessly here and there without even a care
You touch each flower with such tenderness while you capture my longing heart with your kindness
A better life with much less stress and so much more is what you have given to me and my soul divine
You left behind a choice for each of us to explore the footprints of a life worth living.
You are my guide of stillness and gratitude
You have left behind enough seeds for everyone to grow fields of blossoming friendships, and gardens that glow with golden copper
I believe that all along you were waiting for me to find you, and I did.
Thank you my precious Tasha, it has been a delight to finally find you
Now I can follow your steps in my garden of life of understanding the meaning of worthwhile
I am now romance, purpose, beauty, lover, and keeper of the past
Tasha Tudor
1915-2008
Blessings to you my dear friends

Leave a Comment (via Facebook):