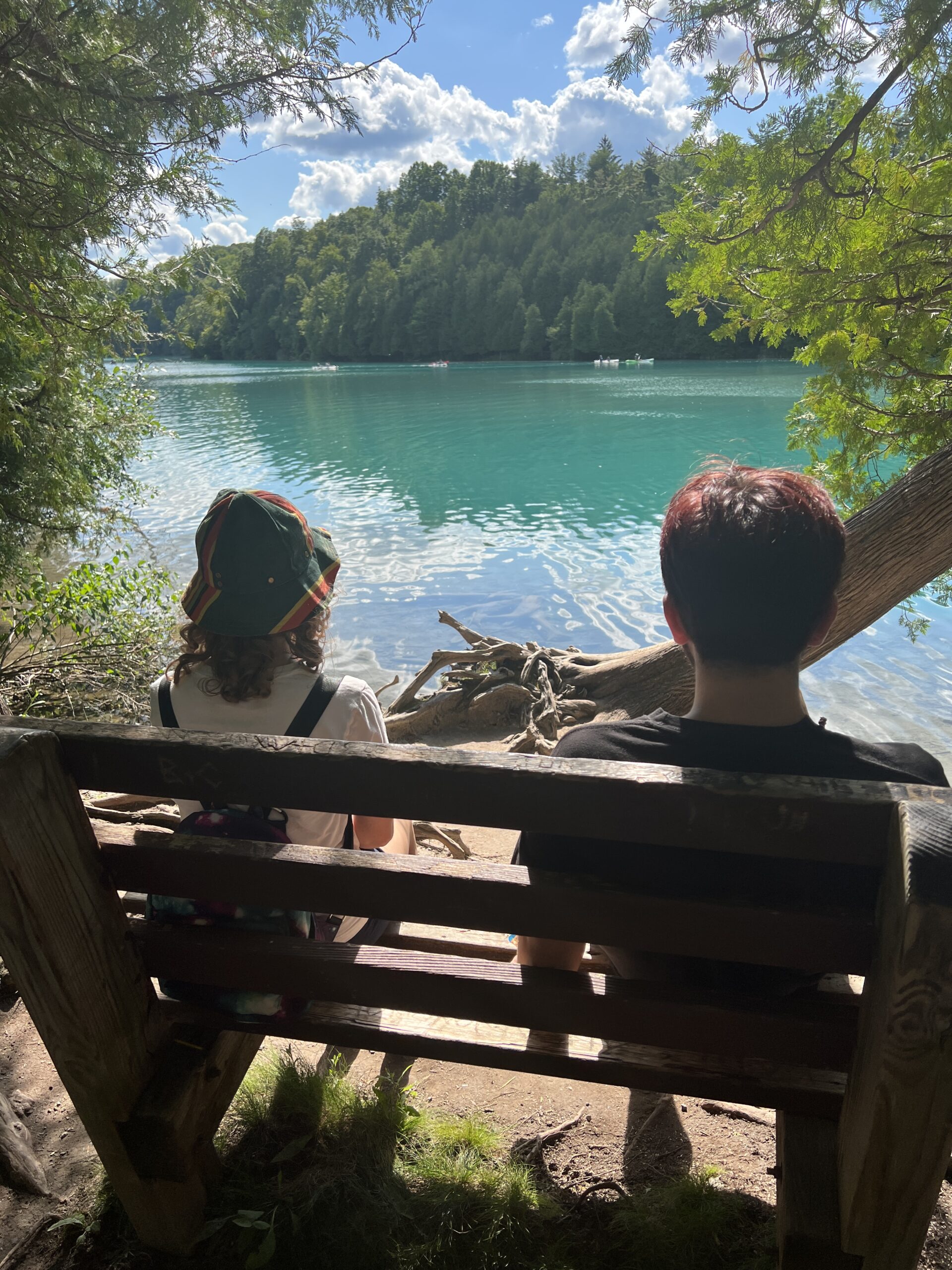 Dante and Alyssa
Champions of Love, Patriotism, and Family
Going for long walks is something I will never take for granted, especially within the confines of Leatherstocking Country's unmatched beauty. Especially on a Sunday. That's the day that allows me to slow down while it breathes fresh air into my soul while gently escorting me back to the days of my youth. Times when the simple life was captured best by Norman Rockwell's true-to-life illustrations that graced over 300 covers of The Saturday Evening Post.
Allow me to illustrate how last Sunday's walk with Dante and Alyssa turned out to be extra special. It started out the usual way; I brought snacks, and plenty of bottled water, then drove to the spot where we usually enter the historic pathways of the Old Erie Canal. From there we followed the towpath where mules once trod pulling barges filled with people and goods while on both sides of the canal, they discovered natural treasures of the past, primitive aqueducts, and quiet pathways just waiting to be explored.
I never clocked how far we walked, but my guess would be a good 4 miles down and back with occasionally taking breaks to rest, sip some water, and fill up on snacks and the profound beauty surrounding us.
It was always great fun watching Dante having a jolly old time frolicking along while stopping to greet all of the passerbyes, who were always willing to wave back at him. Because he is on the spectrum, "which includes all of us in one way or another", Alyssa always keeps a close eye on him, never letting him get too close to the water, walkers, or bikers, and never letting him anywhere out of her sight! She loves her brother in so many ways that becomes very obvious with every gesture and heartfelt word that she speaks. I believe it's her unselfish love and deep trust that reaches deep into his soul to comfort him even in the most challenging times. I watch from behind as she rubs his back to calm him and to just let him know that she is near. She understands the power of touch and acknowledges the silently synchronized connection of a hug. They have a spiritual connection that I have never witnessed before and am so privileged to be able to witness a sister's guardianship that is manifested in mutual trust, faith, and confidence.
We usually turn around and head back when we reach the wooden bridge that crosses over the still water of the canal to a path leading to the entrance of the Green Lakes State Park. Although we were a little tired, it was such a beautiful day that we decided to take the extra time and check things out. Although they had been there before, they were more than willing to show me the way.
We sat for a while to rest a bit in front of the entrance and then headed out to a place that I wish I had discovered a long time ago. It was a short walk to the beach, but the beauty along the way prepared me for what I was about to see. I was first struck by the large beachfront and my first look at hundreds of sundrenched bodies mixed with the smell of sun tan lotion and sand, as well as those like me who preferred the safety and coolness of the shade.
I followed along behind them and watched as Alyssa held her brother's hand making sure that he was in safekeeping with her alongside him. Her protective instincts are far beyond her 16 years; much like the way she has grasped the wisdom of someone way beyond those tender years. She epitomizes the good things in life with a sincere expression of the needs of others to find completeness in the process of living. The things that really matter. It's no wonder that Dante feels the love and safety that she provides for him.
It wasn't until they sat on a bench overlooking the aquamarine water, that I saw the unparalleled beauty of this special place. It was there that I took the picture of them that graces the top of this post. It was an epic moment for me — a quiet time of "oneness" for them. We wandered around along the path that circles the lake and then suddenly I thought, We have to walk all the way back to where I parked the car!
With the little bit of energy we had left, we sat and took a break before heading up the hill back to the entrance to the park. Then, with a little more rest, a few sips of water, and we were off. Well, I have to tell you the walk back was quite amusing in a very benevolent way. What were pretty much fast-paced steps at the beginning of our walk had now turned into short strides of fatigue.
When we got within a mile and a half of the parking spot, with Dante now bringing up the rear not far behind, now making a lethargic attempt to greet people, I decided a little music would make the trudging along a bit easier. I asked Alyssa what she would like to listen to, so she went to YouTube and selected a couple of her favorite songs from groups I hadn't heard before. I must admit they were pretty darn good! A little further along we played a few songs by someone we both liked a whole lot — Johnny Cash.
With about half a mile to go, I noticed that she wasn't saying a word. I assumed it was probably because she was exhausted. Then she began to pick up a little speed and I thought, a few minutes ago it was "mums the word" and she was moving at a turtles pace. I laughed to myself when I realized that she picked up some speed because she just wanted to "get it over with"! Dante came in a distant third, but every few feet she would look back to make sure he was still with us.
It's the simple and uncomplicated things that make life worth living. Spending time with Dante and Alyssa, no matter where we go or what we do, makes me feel like a kid again. I will never allow my age to put out the fire of my inner child. I always want them to be inquisitive and ask me questions. Sometimes questions can appear to be complicated, but the answers can be quite simple.
Slow down and find your own reason that allows you to wonder.
* Go outside
* Put your phone down
* Be like a child — clear, loving, spontaneous, and infinitely flexible
* Be ready to grasp each moment to wonder and "accept a miracle"
Being playful doesn't mean you're immature, it only means that you still appreciate the little things life has to offer.
I almost forgot to mention that we actually walked about eight miles, but we had a great time together. After all, isn't that what really matters?
I just tagged along with them to find myself "again". It's so easy to get lost in the world, and I know they will always be there to show me the way back home. I witnessed the divine nature that exists inside each of them, with its own sacred ability that allows them to see the Imago Dei that constantly surrounds them.
Blessings dear friends,